Hi! We're Kevin and George.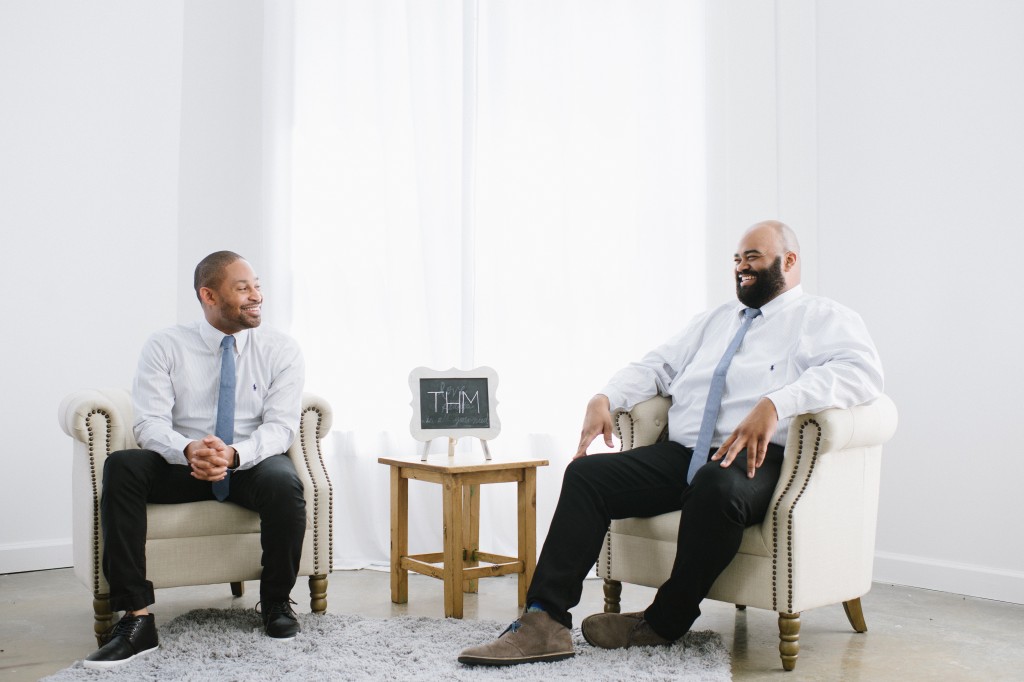 We're two friends who have known each other since before we were born — our moms sat next to each other at a wedding with us in their bellies. We guess that was the first wedding we attended together.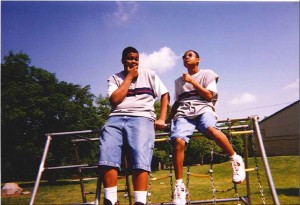 We love music, love to have a good time and love to see other people have a good time. No matter where we were in life — at different high schools, colleges, etc. — music was the one thing that kept us connected as friends. So it was only natural for us to combine our love of music and people to form The Hype Men.
As DJs and lovers of music, we see music as a way to connect with other people and with memories. It's like a time capsule in that way — sometimes it's less about the music itself, but the experiences associated with the music. We bring this approach to any party or reception we host. We take the pulse of the crowd and play music that we know will bring life to the party.
The Hype Men are Nashville-based DJs who provide musical entertainment for weddings and parties. We work closely with you during every step of the process to customize an unforgettable experience unique to your vision.
---
About George
But you can call me…Georgie, Gee
Something interesting about me: I'm never drunk, but you can never tell. I might be dancing like a fool, but it's completely by choice, not substance. I don't need alcohol — just play the music and I'm in there.
What part do you play in The Hype Men? I'm mostly on the musical side of things. I am always looking for ways to improve the overall music selection at the event. I like when people say, "Do you remember that song?" when they hear a song we're playing.
Favorite artist(s) and why: It's definitely Outkast. When I was young and I first heard about them, they were the first people I truly identified with — to be who you are and everything else will fall in line, to not worry about what's cool and what's not cool. That as long as I'm happy with the decision I've made, then I can live with it.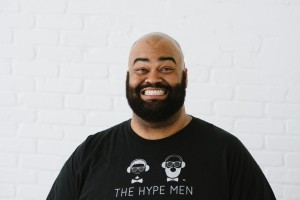 My go-to song that gets people on the dance floor is…"Poison" by Bell Biv DeVoe
Why I like working with Kevin: It gives us an extra excuse to hang out and do what we'd be talking about anyway. We're always talking about music, so why not work with him while talking about and playing music?
What sets us apart from other DJs: Being DJs allows us to be the creator and the audience during the same event. We truly enjoy the moment more than perhaps any other DJ. And because we're in the moment, it allows us to create a more authentic, crowd-pleasing event. It's the teamwork that makes The Hype Men different from other DJs.
Favorite part about what I do: I'm given the opportunity to play music at ridiculous levels for a fee.
---
About Kevin
But you can call me…BJ, Bojangles, NXT
Something interesting about me: At the age of 23, I had some original music featured on MTV's Cribs — it was season 15, episode 2 with the one and only Kim Kardashian.
What part do you play in The Hype Men? I'm the left brain of this duo – I handle the business and technology side of things. I make sure our website is current, that we have the right equipment for the gig and handle customer service on top of working alongside George to make sure we're giving our best to our clients.
Favorite artist(s) and why: Michael Jackson, Stevie Wonder, John Mayer and Common. I feel something when I listen to these artists — I can hear their passion for what they do. There's a commitment to self-expression and excellence — they want to be awesome!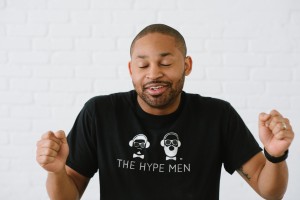 My go-to song that gets people on the dance floor is…Nothing works like "The Wobble."
Why I like working with George: Besides him being one of my closest childhood friends, he's the perfect balance of being completely different from me and a lot alike, which bodes well when we're in tough situations and moments of complete happiness and joy.
What sets us apart from other DJs: We're more concerned with playing music our clients will enjoy over showing off our musical knowledge. If everyone's having a good time, I feel like we have succeeded.
Favorite part about what I do: Dancing. I enjoy dancing with the folks that attend the parties and receptions.